The Dry Dock, August 05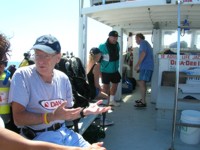 The surface interval
Saturday morning we were blown out. Sunday started as a rather rough ride out, but we were able to stay close enough inshore to keep the waves down in the 2-4 range. Most of the month we have enjoyed clear water on the surface with varying vis below the thermocline. Today was just the opposite. The surface vis was in the 2-4 foot range, and the bottom was 10-20.
Roger tied into the wreck and Pat and I jumped in to do some fishing. Hitting the water and not being able to see the line was quite a shock. As we descended the water got dark very quickly. Not a good day to forget my good flashlight. I turned on my backup flashlight, and tied off my reel. The Dry Dock is an old wooden wreck with lots of holes for fish to hide. It is not big, but I wanted to make sure Pat felt comfortable with the return route.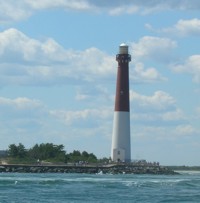 Old Barnie
We started making a sweep for fluke, and ran into a few right away. They were mostly hiding under the sand between the ribs of the wreck. After bagging a couple, Pat started to get cold, so I took her back to the anchor. At this point I switched to Seabass mode. After getting a few I headed back up myself.
The second dive was much like the first. Get a few Fluke before the other divers show up, then go for Seabass. Pat and I had switched flashlights, so I was able to see much better.
By the trip home, the waves had settled down quite a bit. Picturesque clouds had formed over the beach, and we got a few nice shots of the lighthouse on the way in.
Tags: dive, SCUBA, scuba nj, scuba training, wreck diving