Kind of sounds like a Jules Verne novel.
After some scheduling conflicts, I was finally able to head down to Florida for NAUI Tech instructor training. The class included me, as instructor in training, and a friend of mine as a Trimix student. Our class was with Chris Laughrey a NAUI Tech Course Director from Pittsburg, PA. He comes highly recommended by fellow divers, and most of my instructors. After completing the course, I would also highly recommend him.
The trip down was long. My friend (also named Chris) and I were going to travel together, but some more last minute schedule issues caused us to go separately. I got on the road Saturday morning around 4:00am and found myself pulling into the driveway around 8:00pm. One more "South of the Boarder" sign, and would have lost it. We talked for a bit to unwind from the road, then turned in.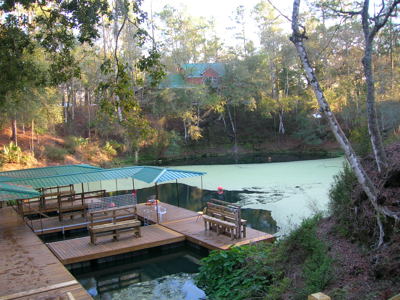 We were up at six and out the door to 40 Fathoms Grotto. It's recently been taken over by a commercial diving training agency, and is also a NAUI training facility. There have been a lot of changes including a new Mixing station and classrooms. We unloaded, went over the dive plan, reviewed gear configurations, and then jumped in the water for Laughrey to have a look at our abilities. We demonstrated skills, Laughrey would have me demonstrate them to Chris, then he would do them fo me. (At this point, I have to admit that I've been CCR, save for Open Water classes. This was my first time in doubles in two years.) Dive one went off without a hitch. We debriefed, and we were off to the classroom.
Laughrey had the latest rev or the NAUI Tech course material (still under review). It contains details on new studies and the latest research. Great stuff! Inflatable Water Slide We went over it for a while during the surface interval, then jumped back in for more skills on Dive 2. This was an all skills dive Valve drills, S-drills, stage drills, line drills … Again after a debrief we packed up and headed back to the room and out for dinner. It had been a long Sunday, and the class was just starting. We had dinner and talked shop for a while. We started the dive plan for the next day, then turned in.
The rest of the class proceeded much the same way. We did progressively deeper dives early then classroom during the surface interval and skills in the afternoon. As the week progressed we transitioned from Laughrey running the dives, to him briefing me, then I worked with Chris to plan and execute the dive. Each morning we would arrive, setup our gear, and analyze our mix. It's a new mixing station, and they are working out the bugs. Most of the time it was pretty accurate. On occasion it was off. The crew was very helpful in correcting any inaccuracy, and we did teach Chris to always analyze.
Laughrey seemed to know everyone in the area. I know he has been diving and teaching for years. During dinner he would entertain us with stories from the who's who of diving. On the last day Hal Watts stopped by to join us for the 240ft dive.
By the end of the week Chris was proceeding well. We had worked through some equipment issues, and were honing our skills. Everyone learned a lot. Even Laughrey said he learned a couple of tricks, but then he may have been humoring me. I look forward to getting the production copy of the course materials. A great deal of work has gone into this, and it shows. I also recommend 40 Fathoms Grotto for anyone considering Trimix training. There are constant improvements going on. It's like a smaller version of Dutch with 240ft of water.
On a final note, we were extra careful not to lose Laughrey's brand new reel. He did make the mistake of calling it "jam proof". We took that as a challenge.