The Viscya, September 10, 05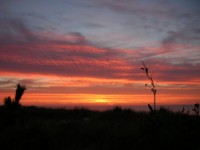 Wake up campers,
it's time to dive.
Another bright sunny morning heading down to Barnegat Light. The seas had been high all week, so we were worried about the visibility. Roger agreed to head a little further off shore and hit the Viscya.
The Viscya was a steel steam ship sunk in an collision with the Hargraves. Now she's a large field of debris on the bottom. There are four large boilers and a large engine in the center of the wreck. Many steel ribs and plates can be seen with good relief for fish and lobster to hide.
We had the usual 50ft of visibility on the surface, but the bottom was down to 10 ft. This varied from place to place on the bouncy castle for sale wreck. Tropical storm Nate was off the coast generating some swell. Unfortunately this translates to surge on the bottom. Swimming was a bit of a challenge fighting to stay off the wreck in the surge, but close enough to see.
A good time was had by all, and plenty of fluke came up. We did our second dive right there, and grabbed some more fluke and seabass.