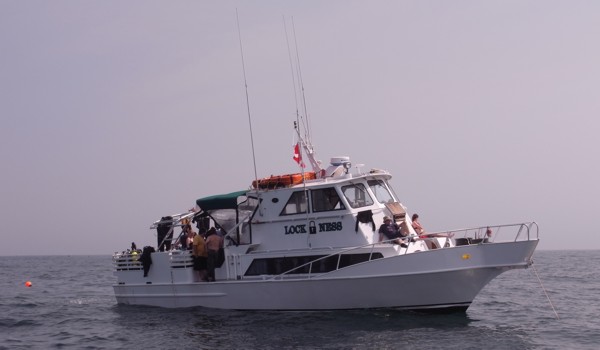 The Lockness stopped by
Saturday, Divers Den North had a charter to the Stolt. Everybody loves this wreck. The drive out was spent weaving and dodging the flotilla of recreational boats. Apparently there was a fluke tournament, and the masses had turned out.
When we reached the Stolt, Terry jumped in to set the hook.  Watching him descend, it was obvious that surface vis looked much better than the week before.  However, when we pulled up a dragger had passed very close to the wreck.  This raised concerns about the piscina gonfiabile con scivolo vis on the bottom. Terry had us tied in quickly, and the pool was open.  As divers were rolling in, the Lockness arrived from Long Island, and asked to join us.  Before long they were tied in, with their boat just off our stern.  Captain Dan seems to know everyone.  We were soon exchanging stories of dives, trips, and artifacts.
Divers started returning with bags of scallops, bugs and mussels. A couple of nice tog came up also. From the reports the temperatures jumping castle had not changed much, but the visibility was just the opposite. of last week. It was clear on the surface, and only 10 feet or so on the wreck.
I rolled in with a student, and we headed for the bottom right along the break. The reports were accurate, the vis was bad, with some surge at the top of the wreck, and current past the hull. We did a quick tour of the break, then headed slowly up the super structure. We poked our heads in a few holes, but the vis was just as bad inside. One interesting observation was the number of scallops on top of the wreck, and on the flat surface of the superstructure.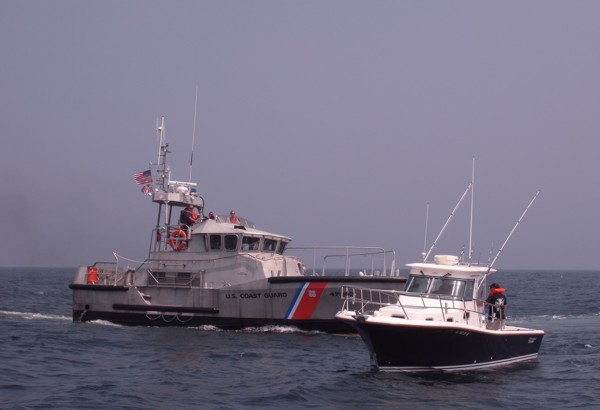 The Coast Guard takes over the escort
While we were in the water, a boat in distress was reported in our area. We got underway quickly, and sped off to assist. Upon arrival, we could see that the boat was low in the water, but they had stopped taking on water. We escorted them toward shore until the Coast Guard arrived on scene. Nothing like a little drama on the high seas.