The Independence II headed out this week on another wreck exploration trip. Captain Dan Bartone had obtained some promising hang numbers a few weeks back. They were located within a few miles of three known Black Sunday wrecks, and warranted further investigation. We've tried to get out a few times, but Neptune had his own ideas. This week the weather cooperated. Dan assembled some of the usual suspects (Dive Marshal Bill Trent, Richie Kohler and Dave Oldham), and headed over 50 miles offshore to check them out.
We arrived to sunny skies and clear warm water. Bill and Richie jumped in and tied in to the wreck in 230 fsw. The report came back that the current was ripping the whole way down to the wreck. While Richie swam along the wreck in an attempt identify her, Inflatable Water Slide Bill had other priorities, and completely filling his bag with lobster. Quite literally, one more lobster, and the bag would not close.
Dan and I splashed to check her out, and pull the hook. With the reports on the strong current, I opted to leave the camera topside. This was a good call, as the decent was hand over hand all the way down the line. We reached the bottom to find 40+ ft of vis, 47 degree water, and reasonably ambient light for this depth. We were tied into the bow winch with her boiler near by. What appeared to be the bowsprit could be seen a short distance off in the sand. This and other structures showed evidence that she was a sailing ship. We were not able to make it to the stern, given the current and the alloted time, but she appears to be over 150′.
We were quickly out of time, and had to get back to pull the hook. Dan and I spent the next hour+ decompressing in the 65 degree water. It felt comfortable to me, but Dan had a leak in his drysuit, and was chilling quickly at 30′. We got on board and headed back home.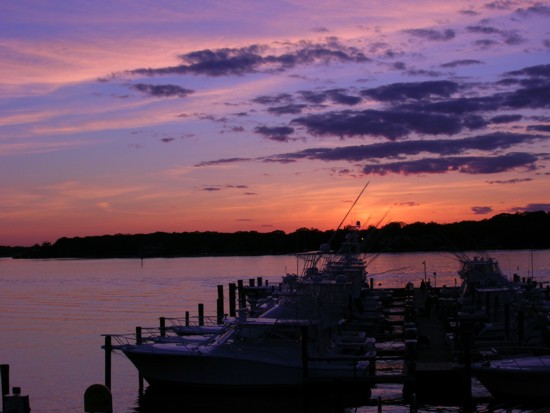 Sunset at Clark's
On the way back we all discussed the nature of the wreck. She's a low lying, wooden sailing vessel which means that identification will require some digging. Her position is within 10 miles of the charted position of three other Black Sunday wrecks. Could she be one also? Only time will tell!
We arrived home to a beautiful sunset, and hot lobster dinner!