About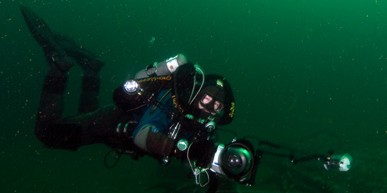 As you can see in the picture here, I love to dive the cold waters of New Jersey. Since I grew up here, and live here, it's certainly more convenient then traveling around the country to dive. On the other hand, I do travel when I get the chance, and dive anywhere I can. After years of diving for fun and food, I decided to teach others about diving in hopes that they will enjoy the sport as much as I do.
I am a NAUI Technical instructor, and TDI instructor. I teach classes from basic SCUBA up through Advanced Trimix and Closed Circuit Rebreathers. On the Classes pages I have a complete list with a brief description of each class. Drop me an e-mail if you're interested in signing up.
When I'm not teaching, I enjoys spearfishing, UW photography, and videography. Just to keep me busy, I completed the USCG Captain's requirements, and received my masters license.
Let's go diving,
Dave
Scuba@sjdiver.com